Types of Chinese Tea
Tea is produced in over 20 Chinese provinces. Chinese tea bushes (Camellia sinensis) are cultivated in the mountain areas of tropical and subtropical regions or whereever there is proper climate, sufficient humidity, adequate sunshine and fertile soil.
Chinese tea is classified in many ways, e.g., quality, method of preparation or place of production. The main processing methods include fermentation (oxidation), heating, drying and addition of other ingredients like flowers, herbs or fruits. These help to develop the special flavor of the raw tea leaves.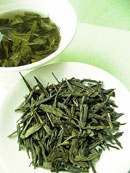 Dragon Well (green tea)

Green tea

Freshly picked leaves only go through heating and drying processes, but do not undergo fermentation. This enables the leaves to keep their original green color and retain most natural substances like polyphenols and chlorophyll contained within the leaves. This kind of tea is produced all over China and is the most popular category of tea. Representative varieties include Dragon Well (Long Jing) and Biluochun from Zhejiang and Jiangsu Provinces respectively.

Red tea / black tea

The tea leaves are fully fermented giving them to have a strong flavor and dark color. In comparison to other tea categories, its flavor is longer lasting and it has the highest concentration of caffeine. This is most popular form of tea in south Asia and Europe.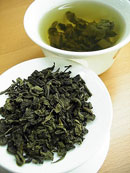 Oolong tea

Oolong tea

The tea leaves are partially fermented, imparting to them the characteristics of both green and black teas. Its taste is more similar to green tea than black tea, but has less a "grassy" flavor than green tea. The three major oolong-tea producing areas are on the southeast coast of China e.g. Fujian, Guangdong and Taiwan.

Pu-erh or Puer tea

The tea leaves have undergone years of fermentation, giving them an unique earthy flavor. This variety of tea is usually compressed into different shapes like bricks, discs and bowls.


Pu-erh in different shapes.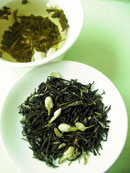 Jasmine tea

Scented tea

There can be various mixtures of flowers with green tea, black tea or oolong tea. Flowers used include jasmine, gardenia, magnolia, grapefruit flower, sweet-scented osmanthus and rose. There are strict rules about the proportion of flowers to tea. Jasmine tea is the most popular type of scented tea in northern China.

Various preparation methods mean different teas have different bioactive substances. For example, green tea only has limited processing so it retains a relatively high content of natural ingredients, meaning that green tea has stronger anti-aging, anti-cancer and anti-bacterial properties. Oolong tea, which is partially fermented, is quite potent in breaking down protein and fat, aiding weight loss. Red tea that has undergone the full fermentation process has lost 90% of its polyphenols but retains its high caffeine content.