Diagnosis in TCM places importance on determining the circumstances and manifestations of a disease through inquiry and symptom observation. Diagnosis is based on the traditional four examination techniques:
| | |
| --- | --- |
| 1. | Questioning The TCM practitioner will establish the medical history of both the patient and his family. |
| 2. | Observation Examination of the physical features of the body, such as the face, tongue, hair, nails, sputum (mucus that is coughed up), and location of pain, all offer clues to the problem. The tongue is a particularly useful indicator of the functioning of the internal organs. |
| 3. | Listening and smelling The smelling of sputum and breath and listening to the sounds produced by the chest offer additional clues to the patient's health. |
| 4. | Touching Feeling the pulse is a cornerstone of TCM diagnosis and gives the practitioner much information about any bodily imbalance. |

In myasthenia gravis, the procedures used in TCM to differentiate between disharmony patterns can be explained as follows:

Qi-deficiency in the spleen and stomach
Impaired functioning of the spleen and stomach causes an insufficiency in qi and blood production. This reduces the supply of nutrients available to the muscles and tendons and results in weakness in muscular contractions. A reluctance to speak and shortness of breath also result from qi and blood insufficiency. Poor appetite and diarrhea are symptoms of spleen weakness.
On examination, the tongue is swollen, pink in color, indented on the margins and coated with a thin, white fur. The pulse is weak and fine.

Yang-deficiency in the spleen and kidneys
Yang-deficiency implies under-functioning of these two organs. This leads to a decline in the storage of essence and muscle weakness results. Kidney-yang deficiency also causes soreness in the loin area, production of copious amounts of dilute urine and an aversion to cold temperatures.
On examination, the tongue is swollen, pink in color and covered with a thin, white fur. The pulse is deep and fine.

Yin-deficiency in the liver and kidneys
Yin-deficiency of these organs leads to essence and blood depletion and results in loss of nourishment and moisture to the body. Body structures, such as the muscles, bones and tendons, become weak. Liver-yin deficiency can also cause insomnia, nightmares and dryness of the eyes. Kidney problems cause dizziness, ringing in the ears, soreness and weakness in the loin area and the knees.
On examination, the tongue is red with a scanty fur covering. The pulse is fine and rapid.

Deficiency in both qi and blood
Deficiency in qi and blood not only affects the supply of nutrients to muscles and tendons, but also leads to general impairment of the whole body. In addition to symptoms of muscle weakness, individuals present with fatigue, palpitation, shortness of breath, pallor and spontaneous sweating.
On examination, the tongue is pale, swollen and indented on the margins. The tongue fur is white and thin. The pulse is deep and fine.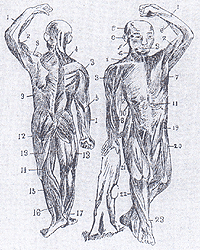 The muscles of the human body (Illustrated Explanations of the New Medicine, 19-20th century)