Colorectal cancer affects the colon or the rectum. The colon is the major part of the large intestine. It consists of four parts, the ascending, transverse, descending and sigmoid colon.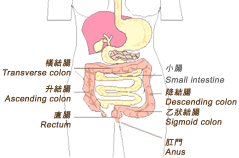 Parts of the colon
After food is digested in the stomach and small intestine the digested material passes though the colon. The main function of the colon is to absorb water and some mineral salts from the digested material. The digested material enters the colon as a liquid. As the material passes through the colon water and mineral salts are absorbed back into the blood stream. By the time the digested material reaches the rectum it is no longer in a liquid-like form but in the form of feces. The rectum is a short muscular tube that connects the colon to the anus. Its function is to hold feces until they are expelled through the anus.
In the United States colorectal cancer is the third most commonly diagnosed cancer and third leading cause of cancer related deaths in both men and women. Among them, 90% of all cases are diagnosed after the age of 50. The occurrence of colorectal cancer is the same for both men and women up to the age of 50. After the age of 50 the incidence of colorectal cancer is higher in men than in women. The incidence of colorectal cancer throughout the world varies greatly. The incidence of colorectal cancer is highest among industrialized countries of Europe and North America.