Ulcerative colitis (Colitis ulcerosa, UC) is a form of inflammatory bowel disease (IBD) that causes inflammation and ulcers in the lining of the large intestine. Based on characteristic signs like persistent diarrhea, rectal bleeding, fever, abdominal cramps and weight loss, TCM puts the chronic condition under the categories of "protracted diarrhea", "protracted dysentery", "bloody stools", or "organ intoxication".
In China, TCM treatment in the diagnosis of ulcerative colitis was first reported in 1958; however, similar clinical experiences can be tracked to a very early period. In the Han dynasty, the symptoms were recorded in a TCM classic, Jinkui Yaolue (Synopsis of the Golden Chamber), which proposed to treat ulcerative colitis by therapeutic approaches like detoxifying, cleansing, warming, astringing and consolidating. The author also formulated Pulsatilla Root Decoction (bai tou weng tong) and Peach Blossom Decoction (tao hua tang) specifically for the condition. This established an important foundation for exploring the mechanism of the disease and developing relevant treatment methods. Modern TCM after many years of clinical studies concluded that herbal administrations along with herbal enemas are a better way to control symptoms and can maintain a longer remission from the disease.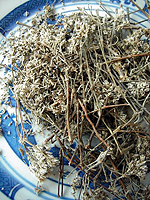 Pulsatilla root
In respect to herbal usage, traditional prescriptions usually contain ingredients that fortify the spleen, replenish qi, clear heat and expel dampness. However, specialists have found that mere application of herbs to activate circulation and remove stasis can also achieve similar results.
Ulcerative colitis is a common and complex clinical condition, TCM treatment has its unique advantage.