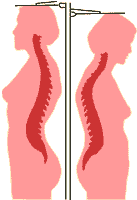 Bone loss in osteoporosis leads to loss of height and spinal deformities.

| | |
| --- | --- |
| Normal vertebrae | Osteoporosis |
Osteoporosis is often called the "silent disease" because bone loss occurs asymptomatically. Osteoporosis may not be evident until bones become so weak that a sudden strain, bump, or fall causes a fracture or a vertebra to collapse. Collapsed or severely weakened vertebrae may initially be felt or seen as severe back pain, loss of height, the beginnings of a hump back, or spinal deformities resulting in stooped posture. Sometimes the first sign of osteoporosis may be sudden pain in the back or hip, or painful swelling of a joint after a minor fall. Such symptoms which persist for more than a few days require the consultation of a health professional.
The clinical symptoms of primary osteoporosis are:


Persons with osteoporosis will also be diagnosed with a TCM disharmony pattern. (See diagnosis section). Each disharmony pattern displays different symptoms, which are described as follows:

| | |
| --- | --- |
| 1. | Yin deficiency of the liver and kidneys |
| | The individual experiences soreness and pain in the back and loins, weakness in the loins and knee joints, general weakness and fatigue, dryness of the mouth and throat, a hot sensation in palms and soles, and night sweating or spontaneous sweating. |
| 2. | Blood deficiency and excessive dampness |
| | This manifests as soreness and pain in the back and loins, a hump back, pale complexion, heart palpitations and dizziness. There may also be pain and soreness in the joints or the lower limbs may be swollen. |
| 3. | Retention of dampness and kidney deficiency |
| | This disharmony pattern is characterized by lower back pain, localized chills, weakness and soreness in the loins and knees. In severe cases the lumbar vertebrae (lower back bones may collapse or a hump back develop. Additional symptoms are a cold feeling in the limbs, urinary frequency, and an aversion to the cold. The symptoms may be aggravated in a cold environment or with a drop in the ambient temperature. |
| 4. | Asthenia-syndrome of superficies and interior dampness retention |
| | The individual suffers from pain in the hip and back, joint swelling, sweating and has an aversion to wind (coldness). A sense of heaviness may also be felt. |
| 5. | Cold in the superficies and heat in the interior |
| | The symptoms here are body aches and sweating, and an aversion to cold temperatures. Additional symptoms can include dry mouth, thirst, and constipation. |
| 6. | Marrow deficiency and channel bi-syndrome |
| | The individual experiences pain in lumbar region. In severe cases, the lumbar vertebrae may collapse or a hump back may occur. Joints can become deformed and develop limited movement. Individuals may also experience dizziness, heart palpitations, and shortness of breath. |