Treatment comprises management of symptoms; when this fails, surgery or chemical ablation (destruction) can be considered.


Medical treatment is usually tried first, but the many categories of medical management indicate how difficult it is to treat this disorder. The aims of treatment are to reduce symptoms and to prevent hearing loss. The following are currently used:


| | |
| --- | --- |
| | sedatives |
| | anticholinergic agents |
| | vitamins |
| | agents that increase blood flow |
| | histamine desensitization |
| | antihistamines |
| | control of body fluid |
| | allergy management |
| | metabolic therapy |
| | endocrine (hormone) therapy |
| | physical therapy, and |
| | various combinations of these. |
Bed rest is essential. Controlled trials of the efficacy of any treatment of an acute attack have been difficult to complete because of the unpredictable and variable nature of the disease.
About 20 per cent of patients fail to respond to medical management and need surgery to relieve disabling vertigo. Patients who have lost hearing respond well to an operation that removes the inner ear (labyrinthectomy). This involves the complete removal of the vestibular (balance) end-organ. For patients who still have serviceable hearing, removal of the vestibular nerve is the procedure of choice, offering a 90 to 95 per cent success rate in vertigo control while preserving hearing.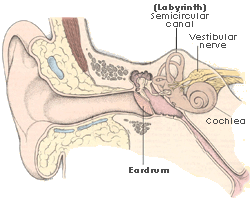 Anatomy of the Ear
In a chemical labyrinthectomy gentamicin can be administered through the eardrum.
(Stedmans's Medical Dictionary 27th edition copyright 1999)
Patients who are either not suited for or refuse surgery, but yet fail to respond to medical treatment, may benefit from an injection of gentamicin sulfate given into the ear. This injection is carefully administered and allows gentamicin to be absorbed through the eardrum to create a chemical labyrinthectomy whilst preserving hearing.

Bilateral Ménière's disease
Patients with active Ménière's disease in both ears are treated with systemic injections of streptomycin sulfate. The injection is given daily with close monitoring of vestibular (balance) function; treatment is stopped after the first signs of toxicity to the balance function and before the onset of hearing loss.