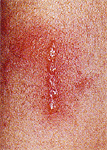 Contact dermatitis - allergen caused rash with well-defined border
(Guide to Medical Cures and Treatments)
Allergic contact dermatitis, also known as contact eczema, is an inflammatory skin disease caused by T-cell-mediated hypersensitivity to an environmental allergen . Both sensitization and elicitation of the reaction involve contact of the allergen with the skin. Allergens causing the disease are numerous, are common, and include both natural and synthetic chemicals.